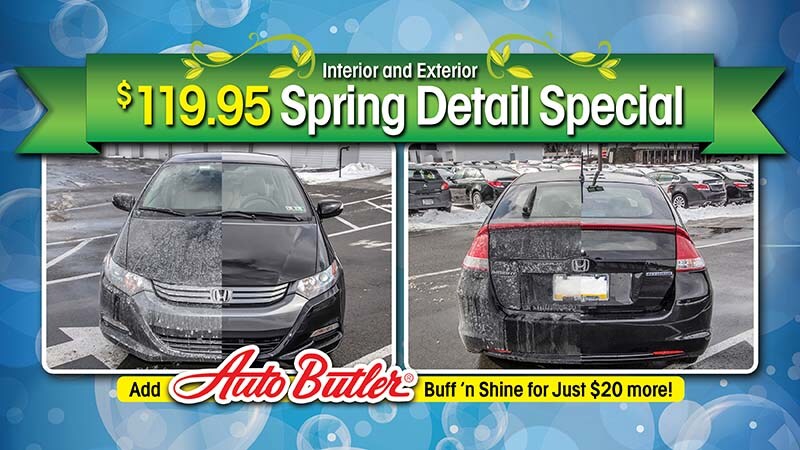 Complete Vehicle Detail
Now only $119.95 plus tax
(Add Auto Butler Paint Protection Application
for just $20 Extra! $139.95 Total)
Using specialized tools, our detail department will clean your vehicle of dirt and grime, inside and out, just in time for Spring!
Clean Windows - Inside & Out; Steam Clean Interior Mats, Seats & Carpet; Dress Interior Leather/Vinyl; Exterior Wash; High Speed Polish; High Speed Buff; Seal with Premium Carnauba Wax; Dress & Clean Tires; Degrease Engine; Clean Door Jams/Trunk; Clean Wheels & Wheel Wells; Bug & Tar Removal; Clean Vents
Can not be combined with any other offer. Valid on details scheduled and performed between April 1 and April 30.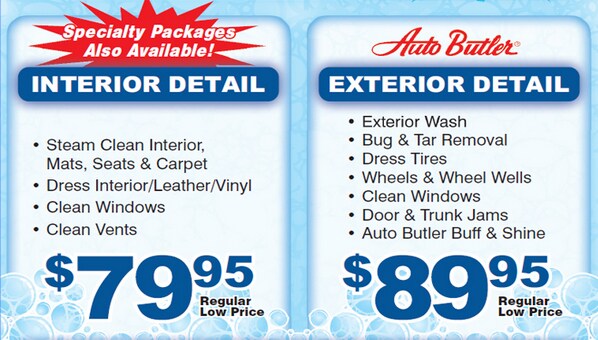 10% OFF - Scratch, Chip, Paint Repair
Scratch, chip and dent removal services are also offered. 
From door dings to hail damage, bumper scuffs to stone chips, experienced technicians will virtually eliminate minor imperfections. Stop in for a free estimate.
Please call for a reservation
724-552-4190
868 Georges Station Road Greensburg PA 15601
OPEN: Mon., Tues., Thurs. 8-9pm; Wed., Fri., Sat. 8-5pm